"Not everyone is born with the genes to be a sub-three-hour marathoner (or sub-four-hour marathoner). We can do things to make us faster, such as track work and hill runs and mile repeats. But at the end of the day, some people are just born quick. No matter how hard I train, I am never going to run a sub 3-hour, 30-minute marathon. I'll be lucky if I run a marathon in under four hours, despite training over 50 miles a week when I'm preparing….

That doesn't make me…or the person who finishes in last place Sunday, any less worthy of being on the course. We paid our fee. We're part of the running community, and we're helping it expand."
Commentary by Jen A. Miller, the Philadelphia Inquirer's running beat writer. We may not always agree on all things Philadelphia, but she nails it in this piece about the Broad Street Run. 
This was my third year running the infamous 10 miler. I came in 13,801st place out of 35,162 runners. I ran the hardest I possibly could, and finished in one hour, 32 minutes and 55 seconds. The first year I ran, I ran the hardest I possibly could, and finished just a hair under two hours. Both left me feeling unbelievably accomplished.
The thing I love about this race is that it's open to all manner of people. After the finish line, my friends and I gather under the same big tree to stretch, recant our splits, and share horror stories about mid-race bathroom emergencies. Some of us finish in 60 minutes and consider that a rough time. Some of us finish in over two hours and consider it a great victory. But the joy and celebration and encouragement for each person who finishes is the same. 
To me, that's what makes the Broad Street Run — and the Philadelphia running community — so great. I always strive to be encouraging of anyone who gives this a shot, just as others were encouraging of me in the beginning. My friends, thankfully, are the same way.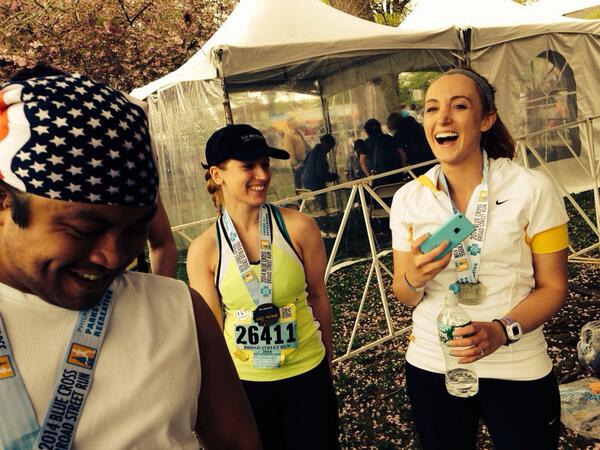 However, it's deeply disappointing to see the same frustrating elitism every year when it comes to this race, and others. Do I sometimes fall into that trap when I'm crammed into the tight starting zone, barely able to get into my proper corral? Or when I have to zigzag past groups of walkers or people who start in the wrong group? Admittedly, yes, but that's a fleeting thought borne by the desire to run as hard as I can and satisfy the competitive voice in my head — not to hate on someone else's race.
Does any of that mean I think we should close off the course to newbies or require a qualifying time? Absolutely not. 
That's just not in the spirit of the race. 
My feedback on organization, crowd control and the race itself can wait for another post. There are plenty of ways Philadelphia Parks & Rec department can fix this race's ailments. But for now, I'll leave you with this supplementary quote from Jen:
"A few months ago, I interviewed Desiree Linden, who almost won the Boston Marathon in 2011 and was on the 2012 Olympic Marathon team. The story was about her training to run Boston again. Before the interview, she emailed me and asked if we could push it back an hour since she had a hard tempo that morning and needed an extra hour. When we got on the phone, I thanked her for that because I had also done a hard tempo that day and needed that hour to shower and re-coffee up.

Despite her having a marathon time TWO HOURS faster than mine, we talked for the first 15 minutes about hard tempos and coffee, and she asked me about my race and my training. Every professional runner I've interviewed has been like this.

There's no reason for some fast amateur runner to be a snot about slower runners when the pros are like this. /endrant"
P.S. I'm also quoted in this feature piece in the Inquirer today, about preparing for Broad Street.
Getting a ton of reblogs on last year's Holiday Run Streak post! It's that time of year again, and the renewed interest has inspired me to tackle the streak once more.
Join me in a streak, starting next Thursday, Nov. 28, 2013 — make Thanksgiving a day to thank yourself, and your body, for all it does. Take on the challenge to run one mile per day from then until the end of the year.
It's tough but I firmly believe that anyone can do it. And as I've said before, I believe that anyone can be a runner. It takes tenacity and perseverance, plus a certain amount of stubbornness. And a willingness to learn, to fail, and to try again.
Last year I ended my streak after two weeks when I accidentally locked myself out of my apartment at night — womp womp. This year I am a much more dedicated and "creative" runner, fitting in miles wherever I can — like today, I'm planning a 6-8 mile run home from work!
This streak fits in perfectly with my year-long goals, and will give me the push that I need to hit 500 miles by New Year's Eve.
So, are you going to make the run streak commitment? (P.S. I keep writing running steak, which sounds delicious)
Let me know in the comments how you plan to tackle the streak, or make a similar commitment of your own to ring in 2014. I'd love to see who will do this with me. Don't forget to tag your tumblr posts with "Holiday Run Streak" so we can support each other.
When getting involved in a new training plan or fitness regimen, it can be tempting to go overboard. It's happened to me many times, and I've seen it happen to others when I'm working at the gym. The first two weeks are full of ambition and energy. Whether that means waking up extra early to hit the weight machines, an hour on the treadmill, spin classes every day or a combination of all of those…most people have a tendency to overdo it. Enthusiasm for fitness and new habits it great, but it's important to keep your routine and your activities sustainable. That's why the rest day is so important. 
According to Runner's World magazine: "Years of research disprove the notion that a day off wrecks fitness; in fact, the opposite is true. …When it follows difficult bouts of work, rest lets your body adapt to the work and improve. Without recovery, adaptation may occur short-term, but ultimately it will fail. And since most injuries come from overuse, a day of cross-training, rest, or easy miles can prevent three-or four-week forced breaks caused by, say, ITB syndrome."
A day off during your training routine restocks glycogen stores, builds strength, and reduces fatigue, in addition to reducing the risk of overuse injuries and mental burnout.
Hal Higdon, the godfather of modern run training, concurs: "The most important day in any beginning or intermediate running program is rest. Rest days are as vital as training days. They give your muscles time to recover so you can run again. Actually, your muscles will build in strength as you rest. Without recovery days, you will not improve."
How much rest you need depends on many factors and is ultimately dependant on your own body and needs. Some experienced runners find that one day a week off is sufficient, though others need 2-3 days a week for ideal muscle recovery.
There are a few ways to incorporate rest into a program, but I prefer to have scheduled days where I don't run or work out. If my brain really needs the mental release of a workout, I'll do some cross training, very light weight training, walking or yoga.
For my current marathon training program, my rest days are Monday and Sunday (or Friday), with cross training on Friday (or Sunday). For the beginner running group that I'm teaching at City Fitness, I'm recommending running Tuesday, Thursday and Saturday with either resting or very light cross training in between.
To recap: Rest days aren't about being lazy. It's about building improvement and recovery time into your training program. 
Join me on this year's Holiday Run Streak!
Runner's World is inviting its readers to pledge to run ONE MILE per day, from Thanksgiving (that's today folks!) until the end of the year, ushering in a new year of health, happiness and commitment.
Anyone can do it, it's free to participate and a great way to challenge yourself. Make fitness a habit. Make running part of your routine. Beat the wintertime blues!
I'm not an elite runner or anything. Can I still join?
Yes! Whether your daily mile takes you 7 minutes or 30, it's the steps you take that count. Whether it's inside on a treadmill or run-walking outside in your neighborhood, just take it easy, do whatever is best for your own abilities and have fun! I certainly will. This morning was my first run since last weekend's race and it was a doozy just to get started.
But won't this be hard? What about rest days?
A little bit. The hardest thing for me will be making time for myself and getting out of bed when I really want to stay in. But having the online fitness and running community for support is a great way to stay accountable.
Rest days are indeed important, but experts have said that just one mile a day is OK if you don't overdo the intensity (here's a great article on that) and listen to your body.
Who else is doing this?
Lots of people! You can follow along at the Runner's World online community (they're also using the hashtag #RWRunStreak on Twitter) or join me here on Tumblr!
I'd love if you reblogged this so others can join in and tag your running posts with "Holiday Run Streak." Let's do this!
Oh yeah, and have a happy and healthy Thanksgiving. :)
EDIT: 2012 was a fun challenge. Will you join the 2013 run streak? It begins Nov. 28, 2013.
This month Runner's World published a comprehensive grocery list of best buys and foods to avoid.I love that they suggest my favorite food rule: eat lots of color! This is a must-read and I might even rip out some pages to put on the fridge.
Some surprises:
Avoid bottled smoothies. "

Many are sweetened with sugar or nutritionally poor juices like apple or pear."

When to buy organic:  "

If you're peeling or removing the rind (avocado, bananas, onions), conventionally grown produce is fine. If you're going to eat the exterior (apples, peaches, bell peppers), buying organic will limit your pesticide exposure."

Best beef: 

top and bottom round; sirloin; flank steak. Worst: 

Rib-eye, porterhouse, and T-bone steaks.

Best fish: Rainbow trout, mussels and wild smoked salmon are recommended a few times a week and provide nutrients like B12 or 

inflammation-reducing omega-3s

.  Scallops and tilapia are recommended only a few times a month (partially because of the effect on the environment). Avoid Bluefin tuna.
Tortilla swap:  "M

any spinach wraps contain a scant amount of the actual leafy vegetable. Six-inch corn tortillas made with whole corn flour are higher in fiber and lower in calories."

 
Seasonal snack: Pumpkin seeds give 30 percent of your daily iron in just one quarter cup.
Half an avocado delivers: seven grams of fiber and 

monounsaturated "heart healthy" fats like in olive oil.

One sweet potato: has more than three times your daily Vitamin A needs!
No surprise here: I've been saying it forever, but kale is one of the best vegetables, "j

am-packed with vitamin C, vitamin K, and vision-protecting beta-carotene."