After an exceptionally busy race season last year, I've been far more selective about what I register for in 2014. I don't have a marathon on the books, and I'm only planning on half a dozen races overall. Last year, Broad Street was my 7th race for 2013; this year it was number two. This was on purpose — to step back and train at my own pace, setting aside the rigid calendars and costs associated with all those extra race bibs. My goals this year are more about building strength than anything else.
But this next race was a necessity. Meet The Philly 10k. 
Organized by my favorite running store, Philadelphia Runner, the Philly 10k is a brand new race created specifically for our community. It's not another West River Drive out-and-back. It's not an Art Museum 5k. It doesn't have a novelty theme or 20,000 participants.
Instead, it's a classic road race through the heart of the city, through neighborhoods where Philly runners live and play.
"Not everyone is born with the genes to be a sub-three-hour marathoner (or sub-four-hour marathoner). We can do things to make us faster, such as track work and hill runs and mile repeats. But at the end of the day, some people are just born quick. No matter how hard I train, I am never going to run a sub 3-hour, 30-minute marathon. I'll be lucky if I run a marathon in under four hours, despite training over 50 miles a week when I'm preparing….

That doesn't make me…or the person who finishes in last place Sunday, any less worthy of being on the course. We paid our fee. We're part of the running community, and we're helping it expand."
Commentary by Jen A. Miller, the Philadelphia Inquirer's running beat writer. We may not always agree on all things Philadelphia, but she nails it in this piece about the Broad Street Run. 
This was my third year running the infamous 10 miler. I came in 13,801st place out of 35,162 runners. I ran the hardest I possibly could, and finished in one hour, 32 minutes and 55 seconds. The first year I ran, I ran the hardest I possibly could, and finished just a hair under two hours. Both left me feeling unbelievably accomplished.
The thing I love about this race is that it's open to all manner of people. After the finish line, my friends and I gather under the same big tree to stretch, recant our splits, and share horror stories about mid-race bathroom emergencies. Some of us finish in 60 minutes and consider that a rough time. Some of us finish in over two hours and consider it a great victory. But the joy and celebration and encouragement for each person who finishes is the same. 
To me, that's what makes the Broad Street Run — and the Philadelphia running community — so great. I always strive to be encouraging of anyone who gives this a shot, just as others were encouraging of me in the beginning. My friends, thankfully, are the same way.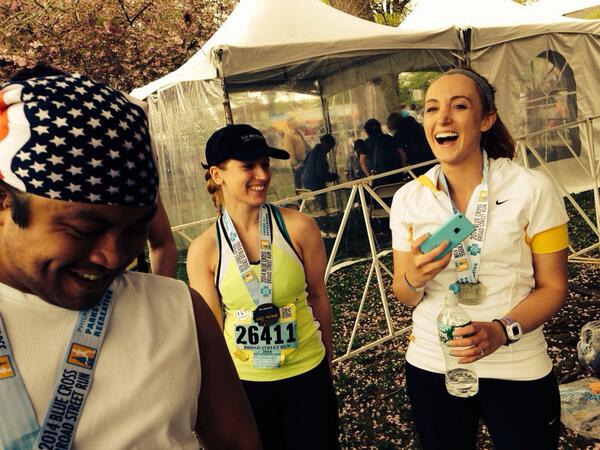 However, it's deeply disappointing to see the same frustrating elitism every year when it comes to this race, and others. Do I sometimes fall into that trap when I'm crammed into the tight starting zone, barely able to get into my proper corral? Or when I have to zigzag past groups of walkers or people who start in the wrong group? Admittedly, yes, but that's a fleeting thought borne by the desire to run as hard as I can and satisfy the competitive voice in my head — not to hate on someone else's race.
Does any of that mean I think we should close off the course to newbies or require a qualifying time? Absolutely not. 
That's just not in the spirit of the race. 
My feedback on organization, crowd control and the race itself can wait for another post. There are plenty of ways Philadelphia Parks & Rec department can fix this race's ailments. But for now, I'll leave you with this supplementary quote from Jen:
"A few months ago, I interviewed Desiree Linden, who almost won the Boston Marathon in 2011 and was on the 2012 Olympic Marathon team. The story was about her training to run Boston again. Before the interview, she emailed me and asked if we could push it back an hour since she had a hard tempo that morning and needed an extra hour. When we got on the phone, I thanked her for that because I had also done a hard tempo that day and needed that hour to shower and re-coffee up.

Despite her having a marathon time TWO HOURS faster than mine, we talked for the first 15 minutes about hard tempos and coffee, and she asked me about my race and my training. Every professional runner I've interviewed has been like this.

There's no reason for some fast amateur runner to be a snot about slower runners when the pros are like this. /endrant"
P.S. I'm also quoted in this feature piece in the Inquirer today, about preparing for Broad Street.
2014 Broad Street Run: the year of the selfie!
A fantastic race day with decent weather. Once again, the best part of the race is celebrating with so many friends — and the whole city.
New PR this year: 1:32:55. About three minutes from my reach goal and five faster than last year. And almost half an hour off from the first year.
Stealing Instagrams from friends. Yoga on the pier, Broad Street Run race expo, South Street Festival and plenty of walking. Today was a good day.
Now off to eat pasta! Yay for carbs!
Where people run in Philadelphia: a beautiful map using Runkeeper data.
Check out FlowingData for more maps of running routes across America.
Back on My Feet is an organization combining two things I hold very dear: running and social impact.
It also follows one of my core beliefs: that running can be — and truly is — for everyone. Regardless of health, race, gender, ability, age or socioeconomic status, running isn't an exclusive club. All you have to do is do it. 
The BoMF story began in Philadelphia (!!) and was started by a marathoner with a mission to empower people who are homeless — and get them back on their feet. I found this inspiring video because it popped up on my Twitter feed — usually I browse right over sponsored links, but I'm glad I didn't this time. 
I'm used to seeing these runners going up and down Kelly Drive, but never thought to pitch in. Now I'm considering FundRacing for them next year for my next marathon. Hmm… 
This weekend I clocked my 700th mile on Runkeeper over almost exactly a year and a half. 500 of that was covered by running, the rest by cycling, hiking and walking. It felt like a pretty decent milestone, even though it came after a particularly painful training run: just 6 miles, but my left knee felt like it couldn't handle any weight by the end.
I saw this rainbow at the end, though, and it was a welcome sight. Double rainbow all the way! What does it meaaaan???
Remember that beginner 5k group I talked about a few weeks ago? There's still time to sign up!
The six-week, 12-session course starts this Tuesday and costs $50 for City Fitness gym members and $75 for member of the public. That breaks down to just a few dollars per session and will include guided group runs, weekly motivational emails and optional weekend field trips to run on Kelly Drive or get fitted for shoes at Philadelphia Runner.
It's going to be great. Everyone is welcome! However, I would recommend this class for people who are already somewhat active or who have been working out in some capacity 2-4 days a week, but aren't very experienced runners yet.
To register, visit or call the Northern Liberties gym and mention the running group. You can ask for me or Jeff Quinn, though you may be asked to leave a message. You can reserve your space over the phone and make payments that way as well; otherwise, we can take your payment on Tuesday if you arrive about 20 minutes early. 
Feel free to email me if you have any questions. I'm getting really excited.