I feel like ordering something with whole milk should be more monumental than it is.
Even years later, with all the changes I've made and the foods I love to eat, I still catch myself hesitating about whether it's OK to choose coffee that's not just black or skim. One of those habits that doesn't quit. 
Every so often, I like to check in on my list of goals to see where things are stacking up. 
In January, I made some plans for what I hoped to accomplish this year. Updates in bold.
Clock more miles than I did last year. That means 480+ miles of running and 250+ of biking. I passed 251 miles of spinning/biking this weekend, and am up to 171 miles of running. Thanks to a freezing start to the year, it's unlikely I'll surpass 480 miles on the road but I'm also pleased to have diversified my activities. There's a lot more biking and dancing happening in my life now. I'm selling my car next month and working on being more self sufficient on my bike. 
Spend a full year adhering to Mark Bittman's "Vegan Before 6" philosophy. Fail. I maintained the plan until the end of March, but decided to stop for the sake of my emotional health. "Restricting" my diet in any way (even a healthy way) tends to lead me back to unhealthy patterns from when I had an ED. Meh.
PR my half marathon. Working on it! Eyeing up some races in November. All the races I originally wanted to do conflict with friends' weddings, so I might need to be creative here.
Improve my design and marketing skills. Trying new things at work and signed up for some design seminars next month.
Giving another try to watching 100 new-to-me movies. 33 and counting!
Give back to my community. Volunteered as a mentor for Spark this spring, teaching a middle school student about potential careers.
Be more kind to myself. Stop being so critical or self-doubting. Always a challenge! Getting better at recognizing my strengths and not beating myself up with comparisons to others. Bought this.
Be a good wife. Better ask Mikey about that one.
P.S. I still have two race recaps to type up and I hope to get that done soon! We're moving to a new house in two days and busy packing up our lives and cats. And I'm busy daydreaming about my new obsession: triathlons. 
Here's a preview of a post to come!
After an exceptionally busy race season last year, I've been far more selective about what I register for in 2014. I don't have a marathon on the books, and I'm only planning on half a dozen races overall. Last year, Broad Street was my 7th race for 2013; this year it was number two. This was on purpose — to step back and train at my own pace, setting aside the rigid calendars and costs associated with all those extra race bibs. My goals this year are more about building strength than anything else.
But this next race was a necessity. Meet The Philly 10k. 
Organized by my favorite running store, Philadelphia Runner, the Philly 10k is a brand new race created specifically for our community. It's not another West River Drive out-and-back. It's not an Art Museum 5k. It doesn't have a novelty theme or 20,000 participants.
Instead, it's a classic road race through the heart of the city, through neighborhoods where Philly runners live and play.
This is what a typical Flywheel class looks like for me. Best and sloppiest way to start a morning.
My numbers always vary depending on how I'm feeling, but inevitably you end up burning between 600-800 calories per 45 minute session. This was part of my physical therapy regimen last summer, and I credit these classes with helping me build endurance and run a bit faster. So intense and so much fun.
P.S. If you haven't tried it yet, your first class is free! You can use my referral link to sign up in any of the 11 regions, including studios in Philly, New York, Chicago, Seattle and Boston.
"Not everyone is born with the genes to be a sub-three-hour marathoner (or sub-four-hour marathoner). We can do things to make us faster, such as track work and hill runs and mile repeats. But at the end of the day, some people are just born quick. No matter how hard I train, I am never going to run a sub 3-hour, 30-minute marathon. I'll be lucky if I run a marathon in under four hours, despite training over 50 miles a week when I'm preparing….

That doesn't make me…or the person who finishes in last place Sunday, any less worthy of being on the course. We paid our fee. We're part of the running community, and we're helping it expand."
Commentary by Jen A. Miller, the Philadelphia Inquirer's running beat writer. We may not always agree on all things Philadelphia, but she nails it in this piece about the Broad Street Run. 
This was my third year running the infamous 10 miler. I came in 13,801st place out of 35,162 runners. I ran the hardest I possibly could, and finished in one hour, 32 minutes and 55 seconds. The first year I ran, I ran the hardest I possibly could, and finished just a hair under two hours. Both left me feeling unbelievably accomplished.
The thing I love about this race is that it's open to all manner of people. After the finish line, my friends and I gather under the same big tree to stretch, recant our splits, and share horror stories about mid-race bathroom emergencies. Some of us finish in 60 minutes and consider that a rough time. Some of us finish in over two hours and consider it a great victory. But the joy and celebration and encouragement for each person who finishes is the same. 
To me, that's what makes the Broad Street Run — and the Philadelphia running community — so great. I always strive to be encouraging of anyone who gives this a shot, just as others were encouraging of me in the beginning. My friends, thankfully, are the same way.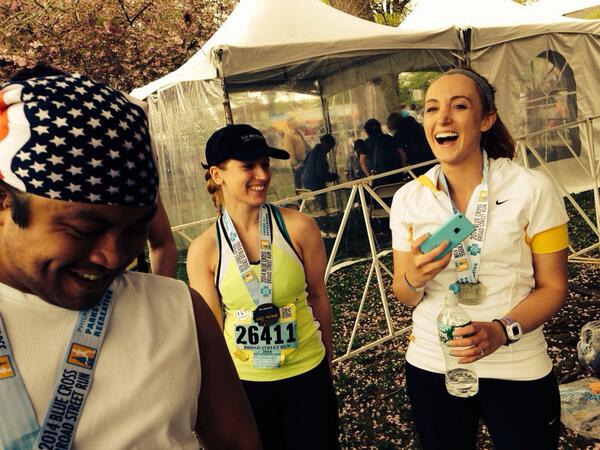 However, it's deeply disappointing to see the same frustrating elitism every year when it comes to this race, and others. Do I sometimes fall into that trap when I'm crammed into the tight starting zone, barely able to get into my proper corral? Or when I have to zigzag past groups of walkers or people who start in the wrong group? Admittedly, yes, but that's a fleeting thought borne by the desire to run as hard as I can and satisfy the competitive voice in my head — not to hate on someone else's race.
Does any of that mean I think we should close off the course to newbies or require a qualifying time? Absolutely not. 
That's just not in the spirit of the race. 
My feedback on organization, crowd control and the race itself can wait for another post. There are plenty of ways Philadelphia Parks & Rec department can fix this race's ailments. But for now, I'll leave you with this supplementary quote from Jen:
"A few months ago, I interviewed Desiree Linden, who almost won the Boston Marathon in 2011 and was on the 2012 Olympic Marathon team. The story was about her training to run Boston again. Before the interview, she emailed me and asked if we could push it back an hour since she had a hard tempo that morning and needed an extra hour. When we got on the phone, I thanked her for that because I had also done a hard tempo that day and needed that hour to shower and re-coffee up.

Despite her having a marathon time TWO HOURS faster than mine, we talked for the first 15 minutes about hard tempos and coffee, and she asked me about my race and my training. Every professional runner I've interviewed has been like this.

There's no reason for some fast amateur runner to be a snot about slower runners when the pros are like this. /endrant"
P.S. I'm also quoted in this feature piece in the Inquirer today, about preparing for Broad Street.